Singapore Nouakchott
« I am working to become a seer » A. Rimbaud
It would need 16hrs 45mins to fly the 13,099km that separate Singapore from Nouakchott. No airline company offers this as a direct flight. Sometimes other routes bring the distanced people closer together by partially erasing the impact of these distances.
Singapore/Nouakchott is the programme that links two solos, «Siyin» written for Sara Leah Tan Siyin to «My tailor is rich» written for Pape Fall a young Mauritius dancer. It enables one to be conscious of "twinned" things. 2 places, 2 people, 2 trajectories counterbalancing each other to see everything as temporary.
Singapore/Nouakchott looks at the way a particular image appears, that which proposes a possible interval, which indicates a gap, a deviation, a dissent to detach the forces controlling society. As on the side aspect of the norm which would draw up a partial geography of our more open identities.
Singapore/Nouakchott looks at the ensemble of acts of denomination, designation, attribution, assignment and the determination of places that are perpetuated with our participation through the social, differentiating, racial, sexual, economic etc. structures in the continuous flux of social interaction..
Singapore/Nouakchott observes and probes the limited space available to bodies beyond these conventions, it suggests ways of being and of thinking of oneself which do neither reproduce ties to the forces of normality nor perpetuate their codes.
Is it possible for these gestures of intervals not to reproduce the forces of categorization ?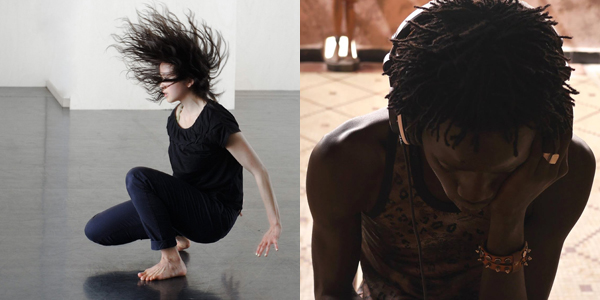 SIYIN - Solo de Sara Tan
« Siyin » is a trial of oneself. A self shifted by several thousands of kilometres.
Sara was born in Singapore and now lives in Brussels to fulfil her desire to dance.
Sara Leah Tan Siyin is the full name that appears in her passport.
Her Chinese Christian name was given to her by her grandfather, literally it means "Thought and reflection with poetry" and she has inherited from her father (a graphic artist) a deep awareness of the interaction between humans and things, of the importance of detail and the shades of meaning that surround all our gestures.
Fragments of lives will be extracted from the context of her personal biography and " redesigned" for the experience of the stage.
This show observes the sensory poetry of reality, between engagement and disengagement, between materiality and the spirit, to touch something more than the self.
A direct form of writing, as close to oneself as possible, to disencumber images, to empty forms, for the image of oneself that does not exist.

MY TAYLOR IS RICH - Solo de Pape Fall
« My tailor is rich »
 Pape Fall was born in Nouakchott in Mauritania, he is exactly 20 years old.
He is a tailor. He is above all a dancer. He is a tailor because his family wants him to have a real profession. He is a dancer because it is his life, his true nature.
His presence on stage, without doubt, is obvious. His performance electrifies us the moment he comes on stage. A joy, a charisma slides under his feet and clings to his soles. He speaks Wolof, Peul and Hassaniya. Above all he speaks music and the movements that inhabit its rhythms. Strangely he closely resembles Miles Davis with whom he shares a particular intensity, something that we sometimes call charisma. It is quite rare. He does not have a passport and has never left his country.
Today he is struggling to learn where his youth will lead him. Being 20 in Nouakchott does not necessarily offer many opportunities yet he knows that his energy has opened up his horizons and that his dance will not abandon him, leave him in the backwaters, leave him there, sewing clothes in his workshop.
« My tailor is rich » is the portrait of a 20 year old dancer who, today, is living in Nouakchott. As the music is one with the dancer and its language appears like a new continent.
« My tailor is rich » is the portrait of a certain youth in Africa, one who is growing up and taking control of his own destiny.

DISTRIBUTION
Choreography Frank Micheletti
Dancer Sara Tan
Dancer Pape Fall
Musicians Frank Micheletti et Sheik Anorak
Light design Ivan Mathis

PRODUCTION
Kubilai Khan investigations

CO-PRODUCTION
Institut Français de Mauritanie

ACCUEIL STUDIO
CNCDC Chateauvallon

Mouvement, n°81 jan-feb. 2016