Tiger Tiger Burning Bright - created in 2012
Tiger Tiger Burning Bright // Teaser from Alban Van Wassenhove on Vimeo.
In today's world everything is becoming faster and faster
.
The contemporary relationship to time draws us into the spheres of acceleration that are the principal experience of modernity. Towns move, they are the territories that these incessant movements prefer, movements whose driving force is the gain by the domination of the most rapid.
Terrains that facilitate speed, where time is becoming more and more important, towns see their spaces compressed more and more and our perception of these is becoming weaker and weaker.
From this constant acceleration as it is experienced in towns, the phenomena linked to dynamism will be explored : fluidity, new social relationships, multiple stimulations and to test their limits : tension, agitation, disturbance, pressure... Facing the changes engendered by the accelerations, the movements, the mutations of society, how do we position and find ourselves and each other ? How can these new ways of existence be shared while respecting one's intimate and collective desires, those that gradually appearing in the construction of a renewal of the way of living ?
DISTRIBUTION
Choreography
Frank Micheletti
Dancers
Viktoria Andersson, Idio Chichava, Camille Prieux, Jenna Jalonen , Sara Tan, Sandor Petrovics
Light designer
Ivan Mathis
Costume
Alexandra Bertaut
Live music
Frank Micheletti
COPRODUCTION
Le Centre National de Création et de diffusion Culturelles de Châteauvallon, Le Manège Scène nationale de Maubeuge, Mâcon Scène nationale. Soutiens : Réseau Escales Danse en Val d'Oise grâce à la participation du Conseil général du Val d'Oise et du Ministère de la Culture et de la Communication - DRAC Ile-de-France, Le Réseau Escales danse en Val d'Oise : L'Apostrophe, scène nationale de Cergy Pontoise et du Val d'Oise – l'Espace Germinal de Fosses – le Théâtre Paul Eluard, scène conventionnée plateau pour la danse de Bezons – le Centre culturel de Taverny et l'ADIAM du Val d'Oise, Conseil général du Val d'Oise, Ballet national de Marseille dans le cadre de l'accueil studio, Association Beaumarchais-SACD.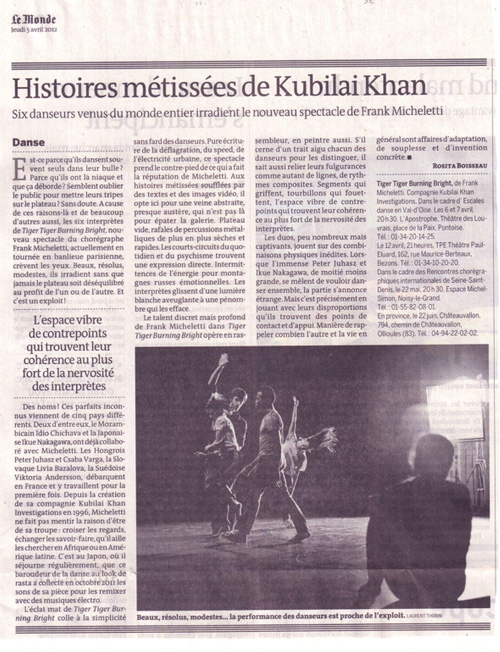 | | |
| --- | --- |
| 29/4/2017 | Espace 93 - Clichy-sous-Bois |
| 4/2/2015 | CCNBN, Caen |
| 30/1/2015 | Espace 1789, Saint Ouen |
| 20/10/2014 | to 24th of nov: African Tour: Madagascar, Ethiopia, Tchad, Mali, Burkina Faso, Mauritania, Senegal, Cameroun |
| 16/10/2014 | & 17, Scène Nationale de Besançon |
| 15/10/2014 | Arsenal, Metz |
| 27/3/2014 | Agora centre culturel PNAC, Boulazac |
| 25/3/2014 | Théâtre des sept collines, Tulle |
| 22/3/2014 | Théâtre des 4 Saisons, Gradignan |
| 18/2/2014 | Carré Magique, Lannion |
| 15/2/2014 | Biennale Danse Emoi, Limoges |
| 11/2/2014 | Théâtre des Salins, Martigues |
| 1/2/2014 | Festival Pharenheit at Volcan, Le Havre |
| 30/1/2014 | Espace 1798, Saint Ouen |
| 28/1/2014 | Passerelle, Gap |
| 24/1/2014 | Hippodrome, Douai |
| 6/12/2013 | Saint-Raphaël |
| 3/12/2013 | Espace Malraux, Chambéry |
| 7/6/2013 | Hanoï, Vietnam |
| 4/6/2013 | Surabaya, Indonesia |
| 1/6/2013 | Yogyakarta, Indonesia |
| 30/5/2013 | Jakarta, Indonesia |
| 27/5/2013 | Bandung, Indonesia |
| 23/5/2013 | Danz Festival Lëtzebuerg, Luxembourg |
| 21/5/2013 | La Croisée des Arts Pôle Culturel Provence Verte, Saint-Maximin |
| 17/5/2013 | Théâtre de la Méridienne, Lunéville |
| 21/4/2013 | Odessa, Ukrania |
| 19/4/2013 | Donestk, Ukrania |
| 17/4/2013 | Dnipropetrovsk, Ukrania |
| 15/4/2013 | Kharkiv, Ukrania |
| 13/4/2013 | Kiev, Ukrania |
| 12/2/2013 | to 16th, Maison des Arts, Créteil |
| 1/2/2013 | Mâcon Scène nationale |
| 29/1/2013 | Manège, Maubeuge |
| 11/12/2012 | to 14 : Théâtre National de Bretagne, Rennes |
| 4/11/2012 | Arts Forum, Amman, Jordanie |
| 15/9/2012 | Théâtre Louis Aragon, Tremblay-en-France |
| 22/6/2012 | CNCDC, Châteauvallon |
| 22/5/2012 | Rencontres chorégraphiques internationales de Seine-Saint-Denis- Espace Michel Simon de Noisy-le-Grand |
| 12/4/2012 | Théâtre Paul Eluard, Bezons |
| 6/4/2012 | & 7, Apostrophe scène nationale de Cergy-Pontoise |
| 3/4/2012 | Centre Culturel, Taverny |
| 23/3/2012 | Première : Espace Germinal, Fosses |
| 12/3/2012 | to 17: Résidence à l'Apostrophe, scène nationale de Cergy Pontoise et du Val d'Oise |
| 20/2/2012 | to 4 march: Résidence Espace Germinal de Fosses |
| 14/2/2012 | to 18 : Residence de création, Théâtre Paul Eluard, Bezons |
| 31/1/2012 | Présentation du travail en cours, CNCDC, Châteauvallon |
| 30/1/2012 | Présentation du travail en cours, Forum, Fréjus |
| 16/1/2012 | to 3 feb.: Residence CNCDC, Châteauvallon |
| 25/10/2011 | & 26, Présentation du travail en cours, KLAP, Marseille |
| 20/10/2011 | au 12 nov.: Résidence au CNCDC, Châteauvallon |
| 12/9/2011 | au 18 : Residence à l'Espace Germinal, Fosses |
| 5/9/2011 | au 9 : Residence CNCDC, Châteauvallon |
| 22/8/2011 | to 2 sept. : Résidence au Ballet National de Marseille |